text
Literature
Mary loves Sunday mornings and the spirituals that give her and Mama hope.
text
Literature
In the face of extreme punishment for enslaved people and breaking the law for whites, roughly 5 percent of the enslaved population learned to read and write. Letters like the ones written below show the lengths they would go to learn.
text
Literature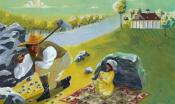 Young Delia learns a hard lesson from her papa about what it means to be enslaved on George Washington's plantation.