text
Literature
Two small boys on a plantation strike up a dangerous friendship.
text
Literature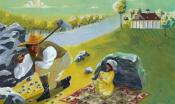 Young Delia learns a hard lesson from her papa about what it means to be enslaved on George Washington's plantation.
text
Informational
Charles Henry Langston was an early abolitionist in Ohio who risked his own safety and freedom to help another man escape slavery.