Objectives
The activities will help students:
recognize that a person's sense of identity has many components;
analyze photographs that show individual identities; and
explore some difficulties that may arise for people whose identities include words like "transgender" or "immigrant."
Essential Questions
How do people identify themselves and how do others identify them?
What are some components of an individual's identity?
How do photographs shape understanding of social justice issues?
Introduction
An individual's sense of identity is made up of many different elements. Some of those elements are individual. Statements like "I am good at math" or "I have five sisters" represent personal experiences. They help define you as a good student or as a member of a family.
Other elements of identity are related to membership in a specific group. For example, "I moved here from the Dominican Republic" means that part of your identity in the United States is as an immigrant. Another part of your identity is (likely) that Spanish is your first language. Factors such as race, gender, religion and physical ability can also form part of how you know yourself and how others know you. 
In this lesson, you will analyze two photographs, each dealing with a different element of identity.
Photograph A
Gender Identity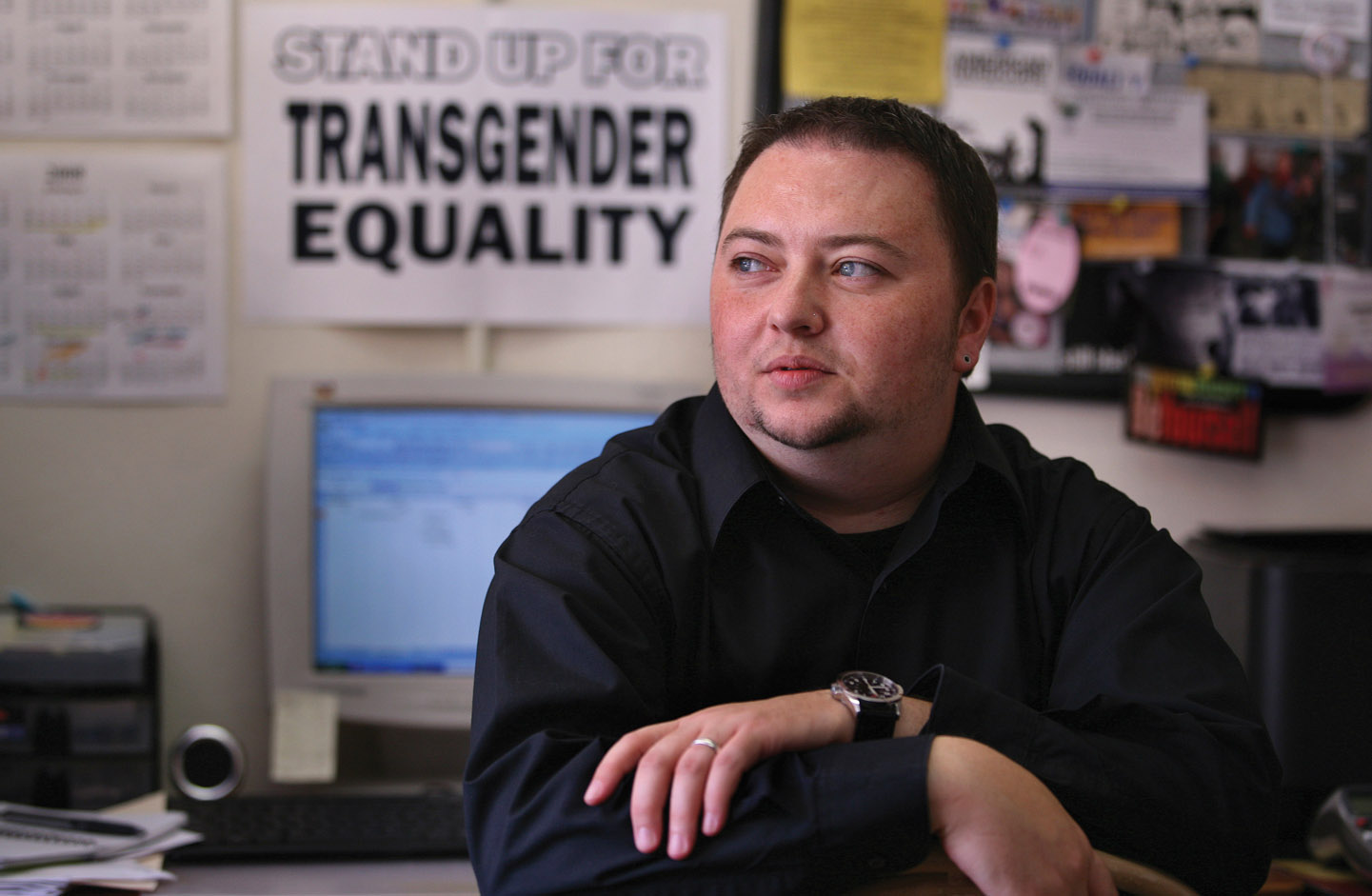 1. Write down your understanding of the word "transgender." (To help you figure out the true meaning, think about the prefix "trans-" and the word "gender.") Now read the definition of transgender to see if you were correct. The first photo you will look at in this lesson focuses on transgender identity.
2. Look at the photograph. Don't read the caption yet. On your own, think about the following questions. You will be discussing them with another student, so you might want to take notes to collect your thoughts.
Describe the person in the photograph. Just make note of what you see, such as short hair, wedding ring, etc.
What does the sign in the background say? What additional information about the person does the sign give you?
What do you imagine the person in the photo is thinking about and feeling?
What feelings do you have when you look at the photo?
3. Pair up with another student. Discuss your answers to the four questions above. (Note: After student pairs have discussed the questions, randomly call on students to share their answers.)
4. It's easy when you look at a photograph to think of it as an accurate recording of reality. But photos are more complicated than that. Many photos like this one seem to be candid. That is, it seems as though the photographer just captured an unscripted moment. In reality, many portraits like this one are carefully planned. Look at the photo again. Imagine that the person in the photo was sitting in front of the computer, but the sign "Stand Up for Transgender Equality" was not there. How would that change your answers to the questions above—except the second question, of course?
Caption for photo A: Boston, October 2: Gunner Scott, a transgender man, is director of the Massachusetts Transgender Political Coalition. He talks about recent appearances of transgender persons on TV reality shows. Photo by Pat Greenhouse/The Boston Globe via Getty Images.
Photograph B
National Identity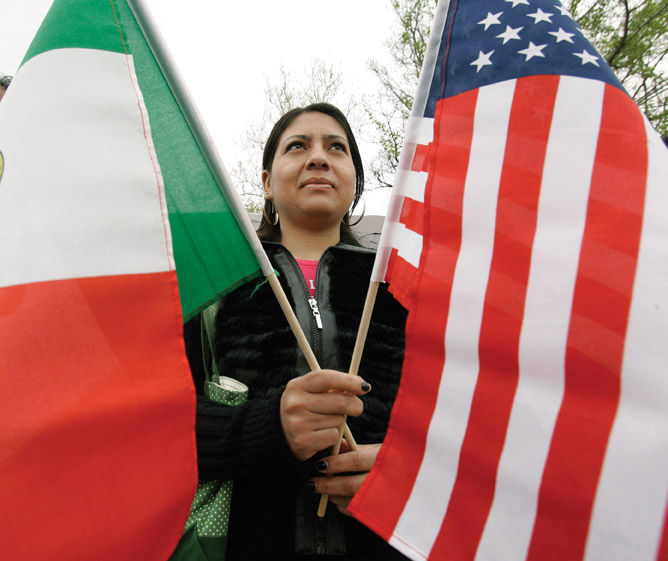 1. Just as gender is part of a person's identity, so too is nationality. Use the same procedure to analyze this photograph: answer some questions on your own, share with a partner and then share with the whole class. Look at the photograph. Don't read the caption yet.
Describe the person in the photograph. Just make note of what you see; don't draw any conclusions.
Why do you think the person is holding two flags? One is a U.S. flag. See if you can figure out where the other flag is from.
What do you imagine the person in the photo is thinking about and feeling?
What feelings do you have when you look at the photo?
2. This photo might or might not have been posed. Either way, it raises another element of photo analysis to think about: context. In what setting do you imagine this photo was taken? With your partner, make an educated guess. Then read the caption below. Does knowing the situation affect your thoughts and feelings about the photo? If so, how?
Caption for photo B: Susana Gutierrez holds Mexican and American flags during an immigration march and protest in Detroit Thursday, May 1, 2008. Immigration activists and civil rights leaders geared up for rallies and marches in cities nationwide, hoping to revive an immigration reform debate grown surprisingly stagnant in this presidential election year. AP Photo/Paul Sancya.
Conclusions
You've now had a chance to look at two photographs that show different elements of individual identity. What kind of photograph would you take to show a component of identity? In this concluding activity, you're going to give it a try. Discuss with your partner different aspects of your identity, using the categories listed in the introduction. Then plan a photo of your partner that will show that aspect of his or her identity. If you have a camera (a cell phone camera will work) take the photo. If you don't, write a description of it. Or, if you prefer to work alone, think about an element of your own identity that you would like to show.