Deepen your knowledge and improve your practice with Learning for Justice podcasts. Each episode explores an aspect of a Learning for Justice topic or framework and is produced with educators in mind. Use your commute, workout or meal-prep time to catch up on the latest thinking and scholarship that matter to you and your students.
You can subscribe via Apple Podcasts, Google Podcasts, Stitcher or Spotify.
What we don't know about American history hurts us all. Teaching Hard History begins with the long and brutal legacy of chattel slavery and reaches through the victories of and violent responses to the civil rights movement to the present day. From Learning for Justice and host Dr. Hasan Kwame Jeffries, Teaching Hard History brings us the lessons we should have learned in school through the voices of leading scholars and educators. It's good advice for teachers and good information for everybody.
Without LGBTQ history, there is no American history. From Learning for Justice and hosts Leila Rupp and John D'Emilio, Queer America takes listeners on a journey that spans from Harlem to the Frontier West, revealing stories of LGBTQ life that belong in our consciousness and in our classrooms.
Through conversations with teachers, librarians, scholars and reporters, host and LFJ Managing Editor Monita Bell explores the critical aspects of digital literacy that shape how we create and consume content online. Discover what educators and students alike need to know—and how we can all become safer, better informed digital citizens.
For the Teaching Hard History: American Slavery framework, click here.
For Best Practices for Serving LGBTQ Students, click here.
For the Digital Literacy framework, click here.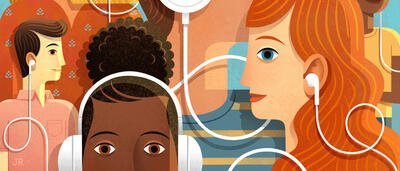 Earn professional development credit when you listen to episodes from any of our podcasts! Fill out a short form featuring an episode-specific question to receive a certificate.
Learn more
Illustration by Jonathan Reinfurt