Objectives
Activities will help students:
analyze how photographs can capture a person's views on an issue
explore the anti-immigration point of view
apply their knowledge of the immigration debate
Essential Questions
How can photographs reveal people's views on a political issue?
How can photographs become political tools?
What does it mean to be "anti-immigration"?
Introduction
The photo shows an anti-immigration protest on the campus of the University of California at Berkeley. People with picket signs are arguing for stricter immigration policies that would make it a felony to be in the United States illegally. Examine the photograph.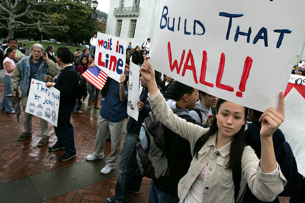 Photo caption: Berkeley, CA - April 10: Supporters of house bill HR4437 attend a rally for immigration reform on the campus of the University of California Berkeley April 10, 2006 in Berkeley, California. Thousands more across the country were protesting the bill, which would make it a felony to be in the country illegally. (Photo by Justin Sullivan/Getty Images)
Activities
In small group, take turns sharing your thoughts on this photo.

Who are the subject(s) of the photo?
What do you think they believe about the issue of immigration?
What do the picket signs mean?
How do you think people in the photo feel?

Read the caption that accompanied this photograph when it was first printed. House Bill HR4437 is The Border Protection, Anti-terrorism, and Illegal Immigration Control Act of 2005. While the bill passed in the House of Representatives, it did not pass the Senate. Read more about the bill at Immigration Issue Draws Thousands into Streets.
It's clear that the protesters in this photo have a fairly anti-immigration viewpoint. Explore some of the grievances represented by the signs—for example, job competition, feelings that people aren't playing by the rules, and feelings that the laws aren't being enforced.
Conduct an Internet image search to find photographs that express this photo's opposite political point of view. Use this checklist to help you select photos that show people supporting immigration:

How does the photo show support for immigration or immigrants?
Does the photo include signs that express positive statements towards immigrants?
Does the photo include symbols of equality, fairness and/or openness to others?

(Note: To help students understand more about the issue of immigration stereotypes, use the Immigration Myths activity.)
Photos like this not only are expressions of people's political position, they can also be used as political tools to further a cause. Choose one of the following ways to use photos to express your viewpoint:

Write an essay explaining your point of view on the immigration debate. Choose one photo from your search (or from this lesson) as a jumping-off point to think more deeply about the issue of immigration.
Create an advertisement demonstrating your viewpoint on this issue. Use one or more photos from your search in your ad. Be sure that your ad urges others to see the immigration debate from your point of view.
Imagine that you are part of a protest about the issue of immigration. Choose one or more photos from your search to create a picket sign. Also include a slogan on your sign that captures your views on this issue.