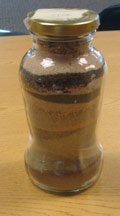 Every school year, my incoming students receive a welcome letter. Included in their packet is something a little different: a snack-sized baggie of sand. One student may receive some black volcanic sand from Japan; another gets green sand from Hawaii; still another receives the silky sand from Florida's west coast; while another may get the pink sand found on Bermuda's pristine beaches.
Why sand?
On the first day of school, the students look at their sand samples under a microscope. There are always lots of requests for me to come see what they have discovered when they view the sand magnified. To the naked eye, sand may look quite dull.  But under a microscope, the students can see all the beautiful little rocks or shells that make it distinctive.
Getting to know my students is like that. Initially one may appear too shy or way too talkative. But when you look at a student under your teacher microscope, you start to learn and appreciate individual characteristics—what makes that student special.
Equally important during the beginning of the school year is building community. Here the sand comes into play again. Once we scientifically examine the sand, it's time to create our own "beach." Sometimes we make the beach right away; other times, it takes longer. This all depends on how long it takes for the individual students to truly become a class.
To create a beach, each child pours his or her baggie into a glass jar. The jar represents our class, and each layer of sand in the jar represents a student. To me, it's important that students maintain their unique personalities while contributing as caring and respectful class members. This beach-creating ceremony is always a special one. The shelf over my sink holds all the jars from previous classes. My sand collection is replenished each year by students bringing me sand from places they visit. They know that nothing makes me happier than getting a bag of sand that will eventually be sent to my next class. The sand keeps them forever a part of my classroom community.
Erickson is a Teaching Tolerance blogger and a teacher at Thoreau Elementary School in Concord, Mass.