Singer, actor and activist Nick LaTour died Monday.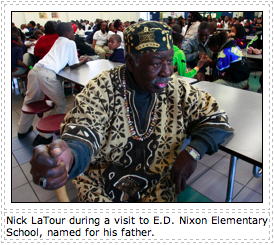 To many children in Alabama and across the country, LaTour was a consummate storyteller who was able to bring the civil rights movement to life. People who heard him sing will forever be touched by his baritone renditions of spirituals or civil rights anthems.
LaTour was often on the front lines of rallies protesting the unfair treatment of others.
But here at Teaching Tolerance, we remember LaTour as a friend. He narrated the Teaching Tolerance films Mighty Times: The Legacy of Rosa Parks and Mighty Times: The Children's March, which won an Oscar for best documentary.
Born Edgar Daniel Nixon Jr., named for his father, a leader in the civil rights movement in Montgomery who helped bail out Rosa Parks and pushed for black voter registration.
LaTour took on a stage name for his professional acting career and carried on his father's legacy. He also founded the E.D. Nixon Foundation, which helps fund after-school programs. LaTour often made appearances to read, speak or sing at the elementary school in Montgomery named for his dad. He would explain to children what life was like in the segregated South and how courageous people like his dad made the decision to change things.
As an actor, Mr. LaTour appeared in many character roles on television in shows, from The Jeffersons to Seinfeld. On the big screen he was seen in films like Deep Cover and Don Juan DeMarco.
Mr. LaTour was 84. He died at his home in Los Angeles. He lived in both California and Alabama. Memorial services are planned in both places. Services will be held March 13 in Los Angeles. In Alabama, they will be held on April 2 at the Hutchinson Missionary Baptist Church, 860 Grove St. in Montgomery. Plans are being finalized.
Williamson is associate editor of Teaching Tolerance.