Two truths and one lie.  
That's how Mix It Up at Lunch Day began at Fordson High School in Dearborn, Mich. Students sat down to lunch with people who were not in their usual social circle. As an icebreaker, students played a game in which one person told two truths and one lie: the rest of the group had to guess which statement was false.
Fordson junior Omar Nasrallah watched as the icebreakers gave way to real conversation.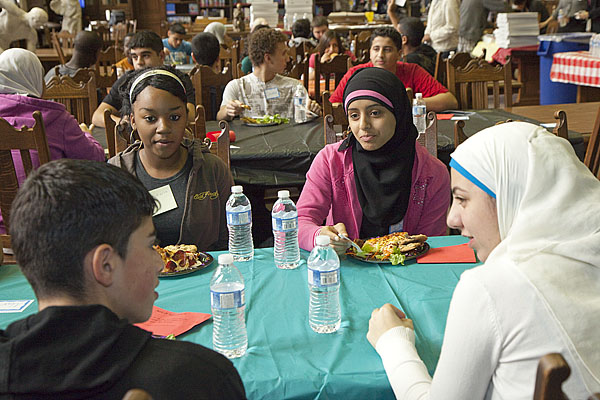 "[We] had a lot of fun," he said, "And some walked out with friends they didn't have before."
Similar stories unfolded at schools across America – and the world – on Nov. 10, as thousands of schools observed Mix It Up at Lunch Day. It's an annual event designed to encourage students to tear down the social boundaries that divide them, by sitting with someone new at lunch.  Surveys of students show that the cafeteria is the place where the lines of division are most clearly drawn.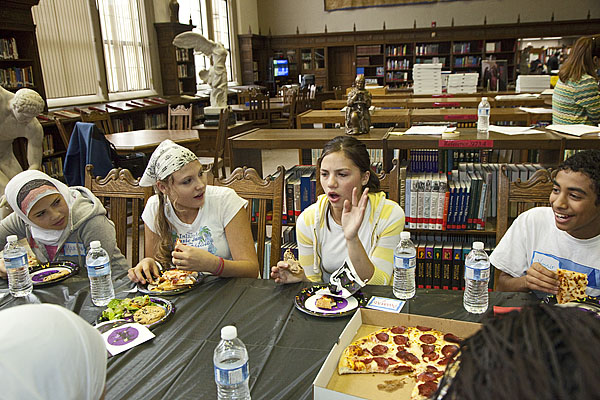 Race is the clearest division in many schools, but there are many other divisions that are harder to see. At Floyd Elementary School in Montgomery, Ala., more than 95 percent of the student body is African American – yet the students found plenty of barriers to cross.
Aviva Muhammad, parent of a Floyd fifth-grader, said her son often comes home with stories of teasing and bullying. But when prompted to Mix It Up, Muhammad said, the fifth-graders were more than willing to open up.
"I walked around to each table asking them what they were learning about each other," Muhammad said. "I overheard them saying to each other, 'oh, that's cool' and 'I didn't know you had a dog. I have one, too.'"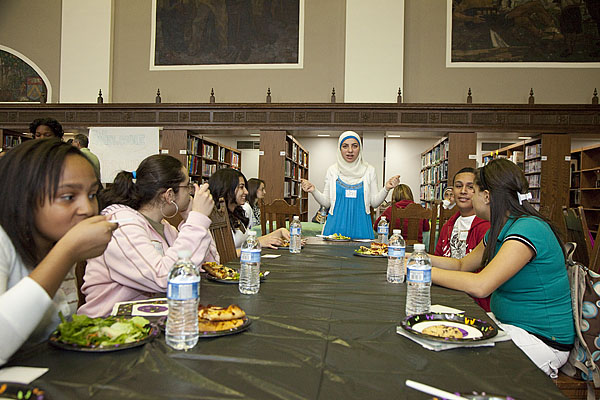 Across town at MacMillan International Academy, students were eager to let their hair down. Not far from Maxwell Air Force Base, Macmillan serves a diverse student body – including many children from U.S. and foreign military families. Lunch here is typically orderly, with assigned seats, little chatter, and students working together to clean up afterward.
On Mix It Up Day, students flitted from table to table, meeting new friends and making conversation amid a dull roar of talk.
"It's a day to branch out," said principal Edward Drozdowski.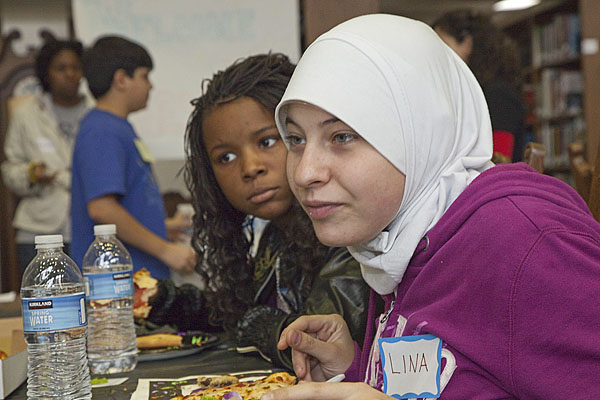 At Scarsdale Middle School in New York, students were given lollipops and asked to form groups based on lollipop color. Teachers gave each group a problem to solve over lunch: cut an 8-by-10 piece of paper so that a person can step through it.
"Three tables did it!" said counselor Deena Paradiso. "We debriefed… and talked about what makes a group function well together."
Back in Dearborn, school social worker Norma Harb delighted in watching Fordson High students reach across their community's boundaries.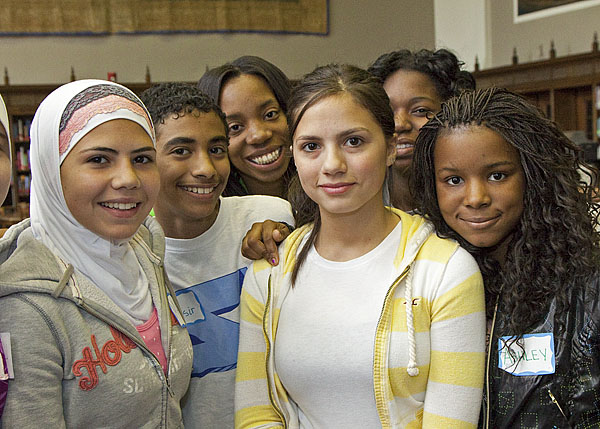 "Black, white, Arab, non-Arab, bilingual, special education, jocks, musicians, it didn't matter," she said "What did [matter] at that time was a group of human beings enjoying lunch, and taking a leap of faith in communication and bonding.
"One huge score for humanity," she said.