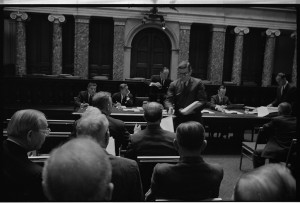 Senators during a meeting on amendments to the Civil Rights Act, 1964
This post is the first in a series of blogs related to the 50th anniversary of the Civil Rights Act of 1964. The series was authored by the educational staff of the Library of Congress and first published on the Teaching with the Library of Congress blog. For more on the educational use of Library of Congress primary sources, visit loc.gov/teachers.
When President Lyndon Johnson signed the Civil Rights Act into law on July 2, 1964, he said that "the purpose of the law is simple. It does not restrict the freedom of any American, so long as he respects the rights of others."
The act was a major turning point in U.S. history. It moved toward ending the Jim Crow laws that had held sway in many areas of the U.S. for years, and paved the way for future reform legislation.
But while the purpose of the law might have been simple, the act itself was not. As one of the most ambitious pieces of civil rights legislation since the Reconstruction era, it addressed inequality in many different areas of American life.
It prohibited employment discrimination on the basis of race, color, religion, sex or national origin in many businesses. It called for the desegregation of public schools. It outlawed segregation in hotels, theaters, restaurants, and many other public spaces. It eliminated the discriminatory use of voter registration requirements.
As the 50th anniversary of the passage of the Civil Rights Act of 1964 draws near, this blog will take a closer look at several important sections of the act through primary sources, using historical artifacts to explore the aspects of life under legal segregation that the act was meant to improve.
These Library of Congress resources provide in-depth background information on the civil rights era, and on the activists whose work helped bring civil rights legislation into being. Keep reading to learn about Title I of the Civil Rights Acts of 1964.
This series of blog posts is anchored by the web-based Civil Rights History Project and the exhibition, "The Civil Rights Act of 1964: A Long Struggle for Freedom." The exhibition is made possible by a generous grant from Newman's Own Foundation and with additional support from HISTORY®.
Wesson is an Educational Resource Specialist at the Library of Congress.