Objectives
Activities will help students:
Understand the significance of Morgan's speech as part of the civil rights movement
Make the connection that modern historical events and issues are directly tied to past events
Assess when is the right time to take action or to speak up
Essential Questions
What can we learn from the past to help us be better citizens today?
What does it mean to be an ally? Can an individual really make a difference?
How has being an activist changed over time?
On Sunday, Sept. 15, 1963, four young girls—Addie Mae Collins (14), Denise McNair (11), Carole Robertson (14) and Cynthia Diane Morris (14)—were attending Sunday school at the 16th Street Baptist Church in Birmingham, Ala. They died—and several others were injured—when a bomb blast ripped through the church. The bomb had been placed there by four Ku Klux Klan members.
The next day, Charles Morgan, a young white lawyer and activist, gave a powerful speech at Birmingham's Young Men's Business Club. "We are a mass of intolerance and bigotry, and stand indicted before our young," he said. Morgan also said: "Every person in this community who has in any way contributed during the past several years to the popularity of hatred is at least as guilty as the demented fool who threw the bomb."
Activity Connection
We recommend combining Charles Morgan's speech, "A Time to Speak," with our Academy Award-winning documentary film Mighty Times: The Children's March. "The Children's March" tells the story of how the young people of Birmingham braved fire hoses and police dogs in early 1963 and brought segregation to its knees. The film is available free in VHS or DVD format, along with a teacher's guide.
Activities
Before Watching
1. K-W-L is a common graphic organizer for building background knowledge and focusing questions about the topic to look for in the short video. Complete the K-W-L chart before and after watching the video. When finished, highlight any gaps and inconsistencies in your knowledge and create individual lists of things that you want to learn or questions that you want answered about the topic.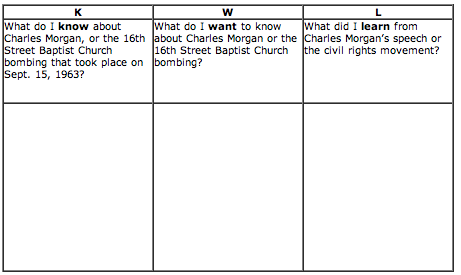 After Watching
2. What did you think? Did you learn anything new? What is the intended message of the quote, "Who did it? Who threw that bomb? The answer should be, 'We all did it.'" What did Charles Morgan do to start a dialogue? Was he successful? Do you agree with him? Why or why not? How is this speech relevant to current events?
3. How would you describe Charles Morgan? Create a "character web" of him. Putting his name in the center, design several spokes to the web that describe something he has done, what others think of him, what you think of him and what he says about himself. Consider how he was an ally and the repercussions he endured from his actions.
4. What do you know or have you heard about the 16th Street Baptist Church bombing that took place on Sept. 15, 1963, in Birmingham, Ala.? Make a historical investigation to find out more about Birmingham during the late 1950s and early 1960s. You may want to start your investigation by reviewing some of the primary documents stored in the digital archives of the Birmingham Public Library or by watching the documentary The Children's March. What were the repercussions for those who stood up for social justice? How has activism changed over time? How does what you've learned relate to the present and the future?