Objectives
Activities will help students:
understand how artists use images to represent an idea
This is the tenth lesson in the series "Using Editorial Cartoons to Teach Social Justice."
Introduction
Recently, cases involving school bullying have made national headlines. To combat the problem, one state created a bill to protect students: The Massachusetts Anti-Bullying Bill. The bill, now a law, requires school administrators and staff to take a closer look at bullying at their school; if an incident of bullying seems to be so severe that it might be a criminal act, they are to report it to law enforcement.
Sometimes artists represent an abstract idea, such as a law, by turning it into an animal, a human or some other thing. This representation can help the viewer understand a complex idea more clearly.
Editorial Cartoon
Examine the cartoon below.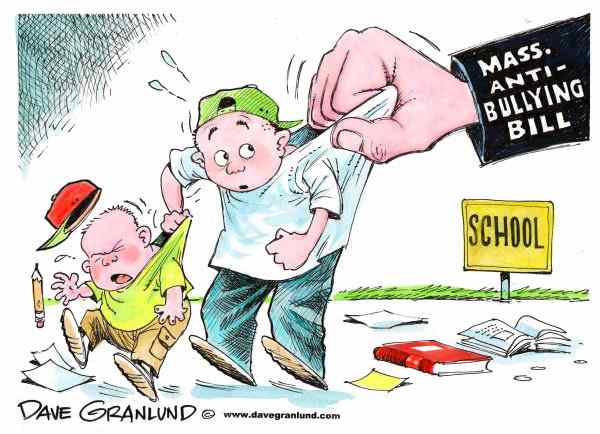 Artist: Dave Granlund. Reprinted with Permission. Teachers may purchase individual cartoons for other lesson plans at PoliticalCartoons.com
What is the relationship between the two students in this cartoon?
What abstract thing is represented by the large hand?
What statement is the artist trying to make about the Massachusetts Anti-Bullying Bill?
Activities
1. In small groups, discuss the following questions:
            A) Do you think there is a bullying problem in your school?
            B) How do you think it feels to be bullied? Draw a web that shows the emotions that bullying might create.
2. A student being bullied by classmates can experience a wide range of emotions: sadness, rejection, loneliness and fear. Choose one of these emotions, or one from the list your group created. Create a poster that uses personification to represent an emotion that bullying can cause. For example, you could draw loneliness as one dark cloud in the sky, far apart from other fluffy clouds.
3. With permission from your teachers and school administrators, use these posters to start an anti-bullying campaign at your school.