Objectives
Activities will help students:
analyze how a photograph can show some truth about the world
examine the details in a photograph to form a story
explore issues of homelessness and poverty
think about homelessness and poverty in their own communities
Essential Questions
How can the specific details in a photograph combine to tell a story?
How do we treat people who are homeless?
Introduction
Examine the photograph.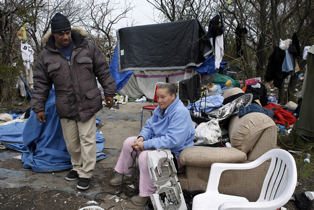 Activities
Closely examine the photo with a partner. Together, make a list of all the fine details you notice in this photo.
Discuss your lists with another set of partners. Use the following questions to guide your discussion:

Where do you think this photo was taken?
Who are the subjects of this photo?
How do the subjects look? What are they wearing?
What other items do you see in this photo?
What seems to be the overall mood of this photo?

Choose one of the following ways to explore this subject.

With your partner, use your list to write a fictional story. Imagine that the photo is an illustration accompanying your story. Make sure all of the fine details that appear in this photo are also mentioned in your story. Consider the following when crafting your story:

How do we treat people who are homeless?
What stereotypes might someone have about the people in this photo?
 How can your story defy these stereotypes?

Write an article exposing homelessness and poverty in your own community. Consider the following when writing your article:

Are there areas in your neighborhood or town where people are living in poverty? What do you notice about these areas?
What stereotypes do others have about the people in those areas?
What do you believe is at the center of the issue of poverty in your town?

Share your story or article with the rest of the class. You can take turns reading your story or article aloud in small groups or just to one partner.
Note:
After students have shared their stories and articles, consider sharing with them the "true story" behind this photograph.
Here is the caption: In this Wednesday, March 30, 2011 photograph, Geano Ortis stands near his girlfriend Clara Biggs on a cold morning outside their tent at Backwoods tent city in Camden, N.J. A year after the original Tent City was closed down, Ortis became the "mayor" of Backwoods. In April 2011 Ortis and Biggs moved to an apartment. A year after the closing of the Tent City community, some of the former homeless have found homes, and happiness, though others are following twists and turns that originally led them to the streets. (AP Photo/Mel Evans)