When I was a kid, I attended two different elementary schools in the same town. They were very different. One was large, suburban and within walking distance to downtown. The other was very small, outside the city limits in an agricultural area and had a significant number of Spanish-speaking students.
What they had in common was grass on the playground. Having grass to play on may not seem like a big deal, but it enhanced my educational experience. So did having a play structure. As students we would lie in the grass, run to the play structures and invent games. When I began teaching elementary school in Oakland, Calif., I was surprised to find that grassy play areas were not the norm.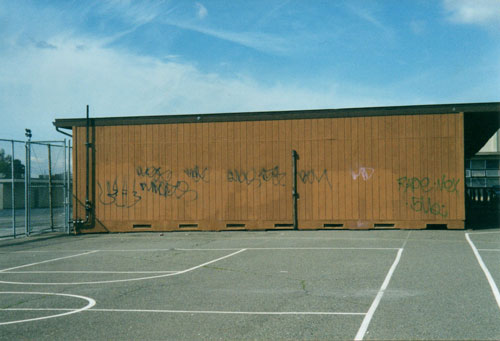 In fact, there were no trees, no play structures, nothing painted on the blacktop and no grass in Oakland. Instead, there were chain-link fences, broken basketball hoops and tetherball poles without tetherballs. It looked like every movie I had ever seen with a prison yard. Each teacher was given one kickball at the beginning of the year. It usually got popped, lost, or kicked onto the roof within the first week of school. Many dedicated teachers bought their own jump ropes, plastic discs and balls. Without these, students had little else to do at recess but chase one another or fight. Some industriously dug holes in the blacktop with plastic spoons.
I have a photo of one of my students from that first year, holding onto the chain-link fence with a trapped look on her face, like a prisoner.
In my third year of teaching, a dedicated colleague had a friend who worked for a firm that renovated campuses and playgrounds through grants. We applied and got the grant. The contractors polled educators, students and parents for suggestions.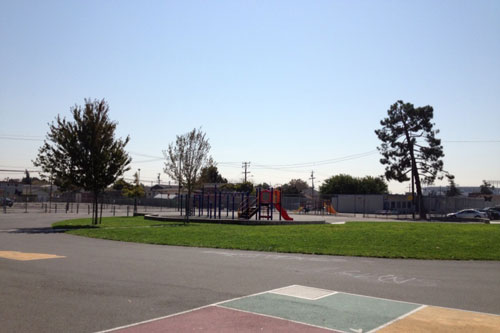 Once installed, the changes were dramatic. Trees were planted. A map of the United States was painted on the blacktop, along with foursquare and hopscotch areas. A small grassy knoll was planted and a highly anticipated play structure was built.
Today, students are engaged at recess. They create new versions of playground games and devise rules. Of course, there are still those who chase each other, and some pushing on the playground, but it's better than the prison yard days. No school should feel like a prison. 
Harris is a teacher, tutor and volunteer in California.