In 2014, the deaths of Michael Brown in Ferguson, Eric Garner in New York City, Tamir Rice in Cleveland and too many others caused waves of nationwide protest and appeals for stronger protections against police brutality.
These events—along with the lack of accountability for the police officers who shot and killed these unarmed victims—also prompted educators to seek resources on how to address these subjects in the classroom.
The resources below can help spur much-needed discussion around implicit bias and systemic racism, but they can also empower your students to enact the changes that will create a more just society.
Editor's note: This web package was originally published in December 2014 under the title "Teaching About Ferguson: Race and Racism in the United States." We update this page periodically to reflect currents events. For the latest statistics on police-related civilian deaths, see the Washington Post resource "Fatal Force." 
Teaching Tolerance Resources
Articles
As protesters across the nation rise up against police violence and systemic racism in support of Black lives, there's something white allies need to recognize. Dr. Neal A. Lester explains.
A new Texas law requires that students learn how to act appropriately when interacting with police officers, but it misses the mark by ignoring a history of policing that has not reserved the same respect for its citizens. This article illustrates how such initiatives ignore racism's influence in police interactions.
This bill calls for "mutual cooperation and respect" concerning interactions with police—and it misses the point.
Constant exposure to violence via social media is harming our students. Learn to recognize the signs to give them the support they need.
There was growing momentum to take down Confederate flags after nine people were murdered at the Emanuel African Methodist Church in Charleston, South Carolina, but our work to denounce systemic racism cannot stop at symbolic markers.
This middle school teacher empowered his students to lift their voices in discussions about Ferguson and Eric Garner—by assigning them to tweet.
This teacher believes it's crucial for white teachers like her to seek out productive ways to talk about race and racism with students.
What is the fundamental outcome of educators growing their racial competence? Learning.
The tragic loss of Michael Brown presents an opportunity to help students connect with our collective humanity.
Feature Stories
Learn about the annual Black Lives Matter at School Week of Action and how you can participate.
All educators have the civic responsibility to learn and teach the basic history and tenets of this movement for racial justice.
An educator introduces ways to discuss Black Lives Matter across all grade levels.
Meet a school district that brought BLM into the classroom—and learn how you could do it too.
Educators' silence speaks volumes during moments of racial tension or violence. Our students are listening.
This magazine feature story explores why we can't talk about racism without understanding the social construction of whiteness.
This feature story explains why hardships faced by communities in crisis are national issues worth teaching. Further, it delineates three approaches to teaching, thinking and talking about the events of 2014 that had the nation grappling with the effects of police violence.
Professional Development
This article helps set a firm definition of white privilege, rooted in the context of the historical use of the term and its present-day implications—both surface-level and systemic.
This page defines the terms stereotype, prejudice and discrimination and includes a link to Project Implicit's Hidden Bias Tests. It also provides suggestions for ensuring that implicit biases don't manifest in biased actions.
This collection of suggestions and resources can help educators identify how to respond when trauma directly or indirectly touches their classrooms.
Talking with students about race and privilege is hard but necessary. This webinar can help you find the words. (Be sure to read the related publication, Let's Talk! Facilitating Critical Conversations With Students.)
This webinar addresses the roots of Black Lives Matter, its platform and its connections to past social justice movements. It also offers tools for teaching about the Black Lives Matter movement.
This sequel to Let's Talk! Discussing Black Lives Matter in the Classroom reviews the education-related policy demands within the Movement for Black Lives' platform: Invest-Divest and Community Control.
To create equitable classrooms, educators must acknowledge their own biases and take steps to confront them. This webinar can help.
This resource offers strategies and methods that can prepare teachers to support students during conversations about race, racism and other forms of oppression.
Classroom Resources
This lesson helps students learn to participate in open and honest conversations about race and racism.
How does mass incarceration function as a mechanism of radicalized social control in the United States today? What is "the age of colorblindness," and how does it attempt to mask racial caste?
What is the long-term harm and wider impact of mass incarceration on people and communities of color?
What is needed to end mass incarceration and permanently eliminate racial caste in the United States?
This iconic photo of nurse and mother Iesha Evans peacefully protesting in front of heavily militarized police officers became a symbol for the resistance to police brutality and violence. This text provides context for a discussion about the power dynamics of police and marginalized people.
This text for grades 6-8 features a 2015 essay by Lecia J. Brooks as she recounts her perspective as a protester who participated in the Los Angeles Race Riots that followed the trial of those who had committed police brutality against activist Rodney King. Her account details the pervasiveness of police brutality and why demonstrators protest against it.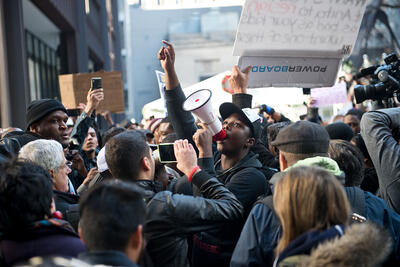 Related External Resources
Jessie Hagopian, co-editor of Teaching for Black Lives sat down with NPR to offer advice for caretakers and educators about how to begin conversations with children about police violence and the protests of 2020.
Developed by District of Columbia Public Schools, this document includes suggestions for how to frame painful conversations, resources for educators who wish to build their background knowledge and a protocol for engaging students. Although the material references Ferguson, it is relevant to all teaching about racial profiling or police violence.
A post from the blog Prison Culture that includes activities to help assist educators in their conversations with students about the role of the police in society.
Published by The Atlantic, this is a crowdsourced list of readings and resources that support teaching about race, white privilege and incidents of police brutality, as well as civil rights history and other related topics. Although the material references Ferguson, it is relevant to all teaching about racial profiling or police violence.
Compiled by the African American Intellectual History Society, this list of readings is designed to help educators discuss the June 2015 massacre at the Emanuel African Methodist Episcopal Church.
From the Pew Research Center, this article summarizes research about how white and black Americans view issues of racial inequity, including perceptions related to the police.
In this article from Rethinking Schools, a teacher recounts how she helped her students process a series of brutal police-related deaths while also studying the historic connection between poetry and injustice.
From writer and educator Jon Greenberg, this collection of activities, readings and images offers try-tomorrow approaches for white educators and students.