text
Literature
Patty, a young enslaved girl, shares some insight about life on a South Carolina plantation.
text
Multimedia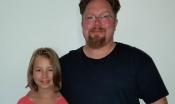 On July 6, 2016, Philando Castile was pulled over by police near Saint Paul, Minn., after being misidentified as a robbery suspect. He was then shot and killed by an officer during the traffic stop. In this StoryCorps edition, Chad Eisen-Ramgren has a conversation with his 10-year-old daughter, who was a student at the school where Mr. Phil managed the cafeteria.
text
Literature
This story follows a girl who befriends the first African American to attend High Point Central High School, as a result of desegregation. What begins as an unintended and awkward experience in the cafeteria, becomes a strong and admirable friendship.