text
Multimedia
This film documents English language learners as they write and tell personal stories from their past.
text
Informational
This excerpt explains that families are defined by love, caring and sharing, not the number or gender of its members.
text
Informational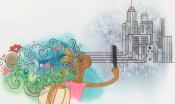 Sean McCollum gives an account of writer Julia Alvarez's move to the United States from the Dominican Republic as a young girl. Although Alvarez struggled to fit in in this unfamiliar place, she finally found a comfortable niche in her writing.