text
Literature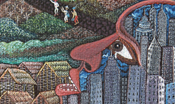 A trip to Haiti gives Joseph a new perspective on his identity and his adoption.
text
Literature
In this poem, the speaker traces the senseless killings taking place abroad and at home, with a particular focus on the African-American community. The speaker also calls communities to action to "grow our hope and heal our hearts" in order to live together in peace.
text
Informational
The Immigration Act of 1965 abolished the "country-of-origin" immigration quota system and established a system of entry based on skills and family relationships with U.S. residents. In addition to his remarks about these changes, President Johnson announced asylum for Cuban refugees.