text
Multimedia
This film documents English language learners as they write and tell personal stories from their past.
text
Literature
Hussein, the narrator of My Name Was Hussein, lives in Bulgaria. His Muslim family takes great pride in their religion and traditions. But soldiers soon arrive in their village and force all of the Muslims to adopt Christian names, thereby inhibiting their freedom and identities.
text
Informational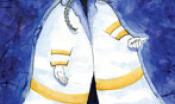 "Connected to Everything" is a story written by Jennifer Greene and published in the Fall 2009 issue of Teaching Tolerance. This story is adapted from a traditional tale of the Bitterroot Salish, a Native American tribe in Montana.