text
Multimedia
This film documents English language learners as they write and tell personal stories from their past.
text
Informational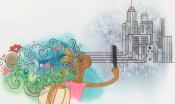 Sean McCollum gives an account of writer Julia Alvarez's move to the United States from the Dominican Republic as a young girl. Although Alvarez struggled to fit in in this unfamiliar place, she finally found a comfortable niche in her writing.
text
Multimedia
Felipe Morales' telling account of an encounter with a blind woman on the streets of Washington, D.C. was recorded for This I Believe. The NPR project features brief personal essays in which people from diverse backgrounds discuss how their values affect their daily lives.