On a Saturday afternoon in Houston, Dennis Rivera-Sarmiento crossed a stage donning a green graduation gown. The 19-year-old was proud of this moment—one he wasn't sure would happen.
Just months before, a scuffle with a classmate near Stephen F. Austin High School threatened his future in the United States. Charged with assault, he was arrested by campus police, sent to county jail, then held in three different Texas immigration detention centers, including one located more than an hour from his home.
He'd been bullied at school because he's an undocumented immigrant, but he usually kept a cool head about it. On that fateful day in late January, he felt threatened enough to respond to an attack.
He says the classmate repeatedly shouted a racial slur before hurling a Gatorade bottle at him. Then she walked toward him. He pushed her, knocking her to the ground. The student alleges Rivera-Sarmiento punched her in the head, although he denies this.
He knew there would be fallout from the incident, so he reported to the school's office to explain what happened.
This is the moment Rivera-Sarmiento entered the school-to-deportation pipeline—a channel in which undocumented students are subjected to interacting with law enforcement and subsequently funneled into the punitive immigration system.
"At the beginning, I was feeling like everything was going to be OK for me," he recounts. "But then when they told me that they were going to detain me, I knew I was in trouble."
Rivera-Sarmiento's experience is a direct result of the school-to-prison pipeline (STPP)—a phenomenon in which students are criminalized through punitive discipline practices that push them out of school, increasing the likelihood they'll come into contact with the criminal justice system. The STPP disproportionately affects black and brown students and students with disabilities. These students are also disciplined more often and more harshly compared to their white and Asian counterparts, regardless of income level, reinforcing the opportunity gap for historically marginalized groups.
Disciplinary protocols that involve school resource officers (SROs), combined with stricter immigration enforcement, leave undocumented students in a particularly vulnerable position.
An estimated 725,000 students in grades K–12 are undocumented, according to the most recent Pew Research Center data. Some of these students have stories like Rivera-Sarmiento's. However, no one is certain how broad the school-to-deportation pipeline is since there are no quantitative studies. Advocates suspect it happens more often than is reported.
A dramatic increase in school security measures since the 1999 Columbine High School shooting has multiplied young immigrants' vulnerability. In the intervening years, the number of SROs on K–12 campuses has increased by 50 percent, according to a February 2018 Immigrant Legal Resource Center report.
Schools inadvertently participate in the school-to-deportation pipeline with zero-tolerance policies and the use of SROs. In California, for example, a teen who'd fled abuse in Mexico is at risk of having his green card application denied because a teacher found a small amount of marijuana on him—a federal offense on school premises. He was arrested by the SRO and given a ticket, which he must report in special immigrant juvenile status and green card applications.
In a smaller but growing number of instances, schools may be directly involved. According to the American Civil Liberties Union (ACLU) of Arizona, in 2013 a 15-year-old Arizona student was interrogated by school officials, then handed over to U.S. Immigration and Customs Enforcement (ICE) officials after being accused of stealing school property.
Members of the coalition Organizing Network for Education (ONE Houston) have been pushing for alternatives to policing in Houston schools and are working to prevent other students from experiencing what Rivera-Sarmiento is going through."If I think back on my adolescence, a fight was not something that would end up with you getting arrested," says Catlin Goodrow, an educator and ONE Houston leader. "We really have criminalized a lot of adolescents and that's much more serious for kids of color." Rivera-Sarmiento's immigration attorney, Brandon Roché, became concerned about the case because it comes on the heels of the passage of SB4—a Texas law that requires law enforcement agencies to cooperate with ICE.
I felt that, whatever the consequences may have been for me helping the student, it was going to be worth it.
He said Rivera-Sarmiento's detention is the most direct case of the school-to-deportation pipeline he's handled.
"My first impression was, 'It sounds like a compelling case,'" Roché says. "He is a kid who had a 3.4 GPA. He'd never been in any trouble at all in school. All of the teachers and counselors at school told me right away he was a model student."
Rivera-Sarmiento's peers were in his corner as well. Hundreds of students staged a walkout in protest of his detention. As of this writing, Rivera-Sarmiento is out on bond and awaits the ruling of an immigration judge—a process that could take months or even years.
Cortez Downey, a college success adviser at Austin High School, raised money for Rivera-Sarmiento's legal fees, penned an editorial for the local newspaper and spoke openly about his dismay about Houston Independent School District's (HISD) protocols regarding SROs.
"There isn't a defined policy. That's what the problem is," Downey says. "There are no clear guidelines on what resource officers are supposed to do in these situations. What happens to this student could set a precedent for what happens to the rest of our students. I felt that, whatever the consequences may have been for me helping the student, it was going to be worth it."
Rethinking Discipline
Advocates like ONE Houston's Goodrow say SROs shouldn't be allowed to arrest students for minor infractions and should provide a different system for arrests that would include family communication before a student is removed from campus.
"We really have the know-how now with restorative justice and mood behavioral support to make sure that kids aren't being arrested, but I think that we really haven't had the will," Goodrow says. "HISD is spending $18 million on police officers, but they're spending a tiny fraction of that on social workers, for extracurricular activities and college readiness. So, it's really about what we have the will and priorities to do." Schools often struggle to find balance. In the era of school mass shootings, how do they protect students without doing harm?
"I think this has been a real challenge lately because safety is on everyone's mind after Parkland, after Santa Fe, and so people are talking about having more armed officers in schools," says Caroline Duble, a statewide engagement manager at ACLU of Texas and ONE Houston leader. "We really need to open the conversation about how, [for] students of marginalized identities … that might make them feel less safe versus more safe."
HISD released a statement addressing its policy following Rivera-Sarmiento's arrest, stating that it "has not used district resources to assist in deportation actions and we do not report students to ICE."
District officials contend that "students are and will continue to be safe in our classrooms."
However, some educators believe the school failed Rivera-Sarmiento because leaders didn't explicitly consider how contact with SROs could harm undocumented students.
"Although HISD itself may not be cooperating with ICE, by handing them over to Harris County Jail, HISD is putting our students in a position where they can interact with ICE and ultimately face deportation," Downey says. "The very system that allows undocumented students to be handled this way is the same system that also disproportionately criminalizes our black students. So, this isn't simply an immigrant issue or a brown issue. This is very much an issue for all our students of families of color."
The Uptick Of "Crimmigration"
In "School to Deportation Pipeline," Laila Hlass, professor of practice at Tulane University School of Law, writes that gang affiliation accusations are "the next frontier in 'crimmigration.'"
This term was coined by legal scholar Juliet Stumpf in 2006.
"In part, it's used to describe the way that the immigration enforcement system has, over the last 20 years, taken on many aspects of the criminal justice system, so it's become more and more punitive," Hlass says.
Undocumented students are increasingly being accused of having ties to gangs, pushing them into the school-to-deportation pipeline. School incident reports often make their way into federal immigration investigations, helping to build deportation cases.
While extolling an undocumented person's moral character, community service and work history may be great defenses, any report from law enforcement is still a red flag to an immigration judge.
Kyle Morishita, a Nevada-based immigration attorney, says this targeting has been commonplace for some time, as federal officials work to address gang influence stemming from Central American countries.
"But I think it gets a lot more attention based on the president focusing on gangs and trying to portray a lot of immigrants as gang members," he says. "It just adds to the national hysteria."
In the 1990s, Congress expanded statutes that created more criminal grounds for deportation. Hlass says it incentivized large, for-profit detention centers, mimicking the mass incarceration state. Today, more local law enforcement agencies collaborate with immigration officials.
President Barack Obama made gangs an immigration enforcement priority during his administration. What seems to be new is the scale and willingness to use these allegations in immigration proceedings. Allegations are usually based on vague standards, such as certain types and colors of clothing, tattoos, friends and family members. In 2017, the ACLU brought suit against ICE for illegally detaining teenagers in Long Island, New York. Officers claimed the teens were members of the gang MS-13, but offered little evidence other than the youths' appearance.
Immigration officials can consider almost anything in immigration court.
"That's another issue of why people say school resource officers are difficult to have," Morishita says, "because if they simply write some type of allegation that the person might be in a gang, and it might be noted in that report, that could come out in immigration court even if there's no proof."
Fighting gang affiliation allegations is difficult, especially if the allegations are made in school. Immigrants usually aren't aware they've been labeled or included in a federal gang database, making it nearly impossible to prepare witnesses and other defenses in court.While extolling an undocumented person's moral character, community service and work history may be great defenses, any report from law enforcement is still a red flag to an immigration judge.
Implications of Increased "Crimmigration"
Dennis Rivera-Sarmiento's case may also yield consequences for his mother and siblings, all of whom fled Honduras in 2013. He's been advised that they could be on ICE's radar. But the implications of policing in schools, layered with immigration enforcement and hateful rhetoric targeting immigrants, affects far more than undocumented individuals. 
"The anxiety goes beyond students who are just undocumented to students who have all kinds of identities that are currently being marginalized," says Catlin Goodrow, who has taught elementary and middle school students. "I've had kids ask me, 'Why does the president hate me?' So, kids who were born in the United States that might be of Mexican heritage, they also feel like there's a threat to them." 
For students who are undocumented, related stress can manifest in behaviors that might be misinterpreted as discipline problems. American Psychological Association studies have shown that immigrant youth, particularly those who enter the United States as unaccompanied minors, have higher rates of anxiety, depression and post-traumatic stress disorder. 
Viridiana Carrizales is co-founder and CEO of ImmSchools, an organization that provides resources and support to immigrant students. As an immigrant from Mexico, she knows firsthand how the fear of deportation negatively affects these students. 
"Undocumented students experience so much pain, fear and so much trauma," says Carrizales, who is now a U.S. citizen. "An educator who does not have a relationship with their students is only going to see a kid who is misbehaving or disengaged." 
Looking Forward
Roché says all options are on the table for Rivera-Sarmiento, including seeking asylum. The government may grant asylum if there is a reasonable fear of persecution in the immigrant's home country due to race, religion, nationality, political opinion or membership in a particular social group. The danger level is often higher in Honduras, Guatemala and El Salvador. Asylum applications from these countries, known as the Northern Triangle, have increased by more than 25 percent between 2016 and 2017, adding to a growing backlog, and being granted asylum on the basis of violent threat is quite difficult if the threat comes from the private sector, e.g., gang members or abusive spouses.
While Rivera-Sarmiento is from the Northern Triangle and has been an ideal student, his character assessment won't necessarily save him from deportation.
"Immigration-wise, they don't care about that," Roché says. "They don't care if you're a good person, if you've never been in trouble, at least nowadays. With the current administration, it's all irrelevant."
Meanwhile in Houston, the work continues. Downey and other ONE Houston activists say educators must explicitly support undocumented students.
"If I believe that one of my students does not belong in this country, how can I honestly say that I am going to give them the same level of care and support and level of education that I would give a student who is a United States citizen?" Downey asks. "My challenge for educators is to question their implicit bias."
Work also continues for Rivera-Sarmiento. He was accepted to at least three colleges and sets his eyes on the University of Houston-Downtown, where he hopes to study computer science. Whether he'll be able to do so depends on how judges view his participation in the altercation with his classmate.
Days before his high school graduation, he reflected on how the public may view him following local and national news reports about him.
"I feel like they were saying things that made me look bad," he says. "And not only me, but the people that come from other countries, just like me. I feel like they were trying to make another picture of me. But that is not the real me. I don't think that I'm a bad person."
Dillard is a staff writer for Teaching Tolerance. Lauryn Mascareñaz contributed research for this story.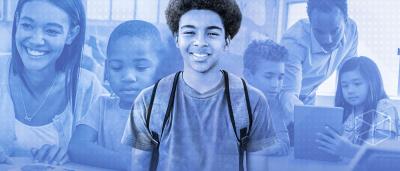 Educators can take steps to stop the school-to-deportation pipeline. Use this toolkit to learn more about how you can reduce the risks undocumented students face.
View Toolkit