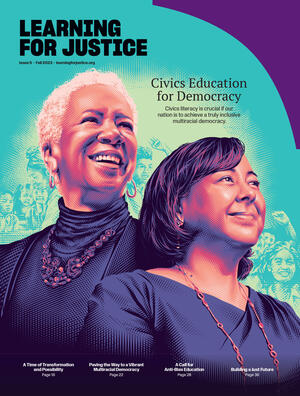 Civics literacy is crucial if our nation is to achieve an inclusive, multiracial democracy. For democracy to flourish in the context of differences, it must uphold the human rights of all people. Learning for Justice Director Jalaya Liles Dunn contends that an approach to democracy that "centers equity and inclusion, not merely the majority's interests," is essential. "We must constantly assess power dynamics, shift power and redirect it to support the least powerful of the particular moment."
To build an inclusive democracy, civics education must tell an honest story about race and develop critical thinkers who can connect history and current events to engage in responsible democratic action. This issue explores the role of civics literacy and inclusive education in developing the intellectual tools, knowledge and civic dispositions essential for democracy.
Features
The United States has championed human rights around the globe but needs to consistently ensure those protections domestically.