So you have a clear goal—to nurture and build school community. But you also have a clear problem—you don't have much money to throw at new projects. So, you ask yourself, how can we carve out a deeper sense of community in an inexpensive way?
Across the nation, many schools have managed to craft creative and inexpensive community-building projects. Perhaps the three projects featured below will spark some new ideas for your own school.
The Hunger Games Come to Texas
At New Tech Odessa High School in Odessa, Texas, Suzanne Collins's novel The Hunger Games was more than an engaging read for the school's 116 freshmen—it was the inspiration for a cross-discipline project that electrified the school. 
The project began with students reading the novel in their English classes. Then, one spring morning, students reported to school for their own version of the novel's "reaping." Instead of finding out who was to do battle in an arena, they were handed a new schedule for the next eight days. It placed every student in one of 12 countries, mirroring the 12 districts in Collins's novel. Faculty facilitators had designed the schedules to put students in groups that took them "out of their comfort zones and out of their normal rotations," according to Tina Lopez, the school's art facilitator.
Then the fun began. In every discipline, students and teachers used the academic subject at hand to work through a Hunger Games-inspired dilemma. In social studies and science classes, for instance, students studied the geography and nutritional aspects of hunger in their assigned countries. The impoverished characters of the book's District 12 inspired students to move beyond their own worlds and to understand—and positively impact—the nutritional struggles in other countries and in their own community.
Each "country" of students was asked to raise awareness of hunger in both the school and community and to combat the problem by holding a canned-food drive and creating artistic sculptures out of the collected cans. Community members were invited into the school (for a $1 entrance fee) to view the sculptures and vote on their favorites. Students from the winning country were given the entrance-fee money to donate to a nonprofit organization of their choice. 
New Tech Odessa's Hunger Games project was a labor-intensive effort for the school's dedicated faculty, but the financial cost was minor—one set of books. "When we plan projects, we are always looking for ways to make [them] authentic," Lopez says. "This project was not [only] impacting our individual classrooms but the school and beyond. We were working with each other for a common good."
Tough Mudders in Macungie
Over the years, Eyer Middle School in Macungie, Pa., has built a successful behavior-reward system called Positive Attitudes Will Succeed (PAWS). Students work together to earn privileges and perks by acting responsibly and respectfully throughout the school year. This year, the PAWS committee decided to sponsor a mini Tough Mudder event.
Tough Mudder is a relatively new and increasingly popular sporting event whose participants use teamwork and determination to complete a challenging obstacle course. Eyer's event was the brainchild of Beth Witte, a veteran health and fitness teacher at the school. The family of a PAWS committee member donated materials, and a proactive parent group jumped in to help coordinate the day. "I'm very fortunate that when I come up with these weirdo ideas, we have a lot of people who say, 'Yeah, we can do this,'" Witte says. 
By the time students graduate from high school, they have each spent about 16,380 hours in school—even more reason to build a positive school climate.
Witte didn't give students their team assignments until the day of the event, and she made sure that students were placed on teams they wouldn't have chosen themselves. As for the event, the focus—in true Tough Mudder fashion—was placed on finishing the race, not on winning it. As youngsters ran all over the field, Witte witnessed school community-building in action. 
She looked out and saw three athletic boys guiding one of their team members—a girl with Asperger's syndrome—along the course. "They said, 'We've got you, go ahead,'" Witte recalls. "It was really cool to see how they worked together."
Stepping to the Mic in Dedham
For the past three years, a small group of students in Dedham, Mass., who call themselves TALK, has gathered on Thursday afternoons in a first-floor room at Dedham High School. TALK members have committed this time to talk about topics that are often left untouched—social, economic and political issues. 
Mashaunda McBarnett, last year's club president, started meetings with icebreakers, then posed broad questions about hot topics. "I'd go on Yahoo! and try to find stories that were controversial or confusing or weird and try to make it a conversation on that particular topic," she says. The dedicated group of 15 to 20 teens would sit down together, put away their cell phones, and discuss gender equity, religious tolerance, abortion and the Trayvon Martin case in a manner more befitting a college seminar than a high school club. 
Aware of the group's success, Robert Blaney, director of the Dedham Youth Commission, recommended the students take their voices to the larger community via an open-mic night. The group agreed.
On a Wednesday evening in May, a dozen teenagers from TALK stood in front of a microphone in a donated venue and shared poems and songs in the theme of "Where I'm From" with 50 members of the Dedham community—half of them adults, half students. The event increased discussion and awareness of diversity within the students' school and town. Plans are already under way for another open mic this school year, with even more teachers and students involved.
"Dedham is becoming more diverse, and this was a great way to start [the] conversation about how people can really celebrate each other," Blaney says. "This is one of the first times there's really been an event [here] to celebrate diversity."
Community Building Essentials
All three of these events illustrate the two keys to creating strong, but inexpensive, community-building projects—creativity and thoughtful structure. It's not enough to just toss The Hunger Games into a school day, nor is it sufficient to simply shift kids outside their usual social groups. But when thoughtful ideas are coupled with an organized plan to help kids expand their comfort zones, amazing things can happen. 
By the time students graduate from high school, they have each spent about 16,380 hours in school—even more reason to build a positive school climate.
A Few More Affordable Community-Building Projects
These three projects are just the tip of the iceberg. There are many inexpensive ways to build community. Just remember to put the necessary elements of creativity and structure in place to effectively build positive relationships. 
 
Orchestrate a school-wide book read, complete with discussion groups, to start conversations about diversity in your school and community.
Plan a "No-Screen Week" free of technology, to create openings for personal interaction and relationship building.
Organize a peer-interview project in which students learn and share one another's stories.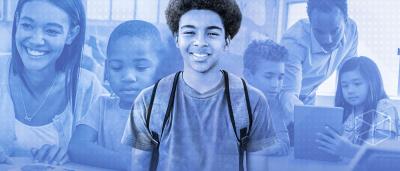 Download a practical planning guide to help you organize a creative, structured and inexpensive community-building project at your school.
View Toolkit