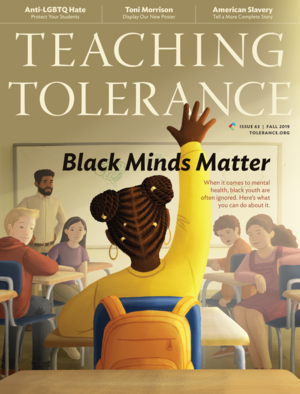 An increase in suicide rates among black children ages 5 to 12 points to a crisis, and the mental health of black youth is too often ignored. But educators are in key positions to make a difference. TT Staff Writer Coshandra Dillard explains how in this issue's cover story, "Black Minds Matter."
In this issue, you'll also find stories about how educators around the country are committing themselves to protecting their students and working toward equity in their schools: a district in Florida that is standing against hate and for their LGBTQ students, a pair of teachers in Boston who are leading their colleagues in examining bias, and educators across the nation who are resisting proposals that would bring guns into classrooms. We also introduce the newest version of our Teaching Hard History resources and a brand-new program to uplift student voices: #USvsHate.
Subscribe today, and never miss a story.