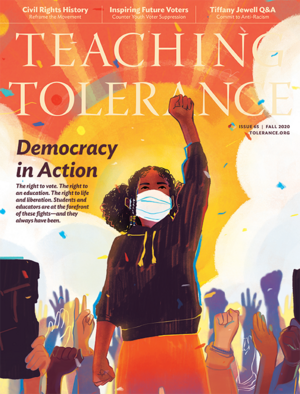 The right to vote. The right to an education. The right to life and liberation. Students and educators are at the forefront of these fights—and they always have been. And that's what the Fall 2020 issue of Teaching Tolerance is all about.
Read this issue for stories about fighting youth voter suppression, protecting students from immigrant families through sanctuary schools and districts, countering weaponized whiteness in schools—and an illuminating interview with Tiffany Jewell, author of This Book Is Anti-Racist. You'll also find a very special One World Poster that you can download and print to clearly affirm: Black Lives Matter.
Be sure to subscribe so you never miss a story.