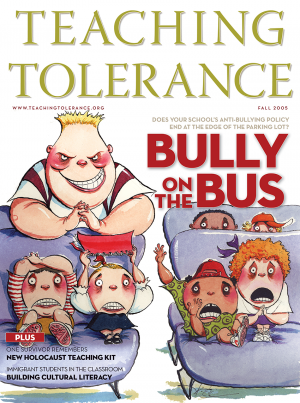 Bully on the Bus
Bullying does not begin or end at the schoolhouse door. The Fall 2005 issue features a special report on an oft-ignored arena of school-age harassment: the bus. A personal account from one young girl puts a human face on this pervasive problem.
This issue also coincides with a new Teaching Tolerance film and class kit: One Survivor Remembers, featuring Gerda Weissmann Klein's story of Holocaust survival. Hear her words, as well as the perspective of an Ohio educator meeting resistance as she tries to teach the subject.
Subscribe today, and never miss a story.