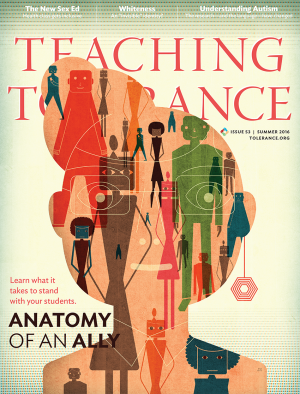 Anatomy of an Ally
The Summer issue of Teaching Tolerance is full of stories we hope will inspire you, not to do more, but to build on the equity and inclusion work you're already doing.
Our cover story looks at what it takes to move beyond being a caring teacher to become a teacher ally for vulnerable students. Other stories describe best practices for supporting undocumented youth, children with autism, LGBT students and students who do not fit gender binaries.
You may be "up to here" with doing more, but small changes can go a long way toward letting all your students know: You've got their backs. And this issue has yours.
Subscribe today, and never miss a story.