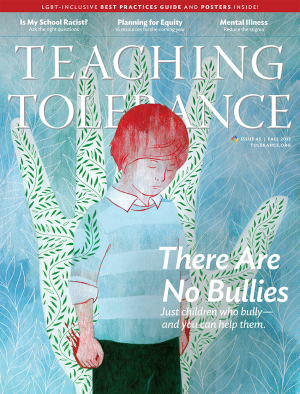 There Are No Bullies
The Fall 2013 issue offers resources for educators who seek to do well by all children, especially those whose identity, mental illness or behavioral issues set them apart. Find stories on creating LGBT-inclusive school climates, spotting and addressing institutional racism at school, dispelling stigma around mental illness and establishing welcoming environments for teachers of color—a key to narrowing the student-teacher diversity gap. Finally, don't miss the cover story about why its helpful to view bullying as a behavior rather than an identity.
Subscribe today, and never miss a story.